Just like any respectable punk-related Ezine, ARTLESS NONCULTURE is an "open-staff" website.

What's THAT mean??

It means we'll publish your stupid bullshit on our crack-ass website. There are, however, a couple of stipulations, of course:

EMO SUCKS

We're not an emo site. There's enough of that shit everywhere already. And enough is enough. Fuck this "Emo just gets a bad rep, and all these modern-day emo kids got it wrong, maaaaaaan!!" You can't tell me nuthin', I know what's what. Emo sucks, always has, and always will. Go push your lame shit elsewhere.


RACISM REARS ITS UGLY HEAD, GETS DECAPITATED
Millions of on-lookers cheer in approval

We don't publish racist rantings, hate speeches, or nazi propaganda. And, while we're big on freedom of speech, we also reserve the right to decline certain literary and visual works. Basically, you're entitled to your moronic opinion. Just don't bother sending it in.

This doesn't make us "PC", it just makes us "not stupid". Go fuck yourself. You narrow-minded, misguided asshole.


KEEP IT LOCAL

We're dedicated to our scene. If you're gonna review a CD, make sure it's by a band from the coverage area. Compilations are cool, as long as there's at least one band on it who's from around here. This also includes interviews, show reviews, show pics, etc. We're not against touring "out-of-town" bands (that would be illogical), but they probably have their own local publications championing them from home. Have some hometown pride, ferchristsakes.



Other than that, it's pretty much open season. So let's get to it.

--Sam Sinister, editor and webmaster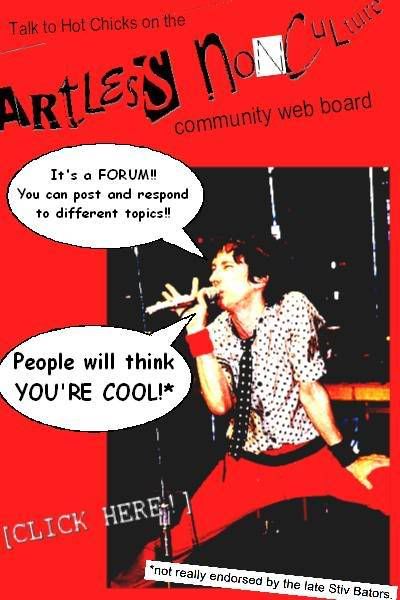 HOW TO CONTRIBUTE:




Submissions of articles, rants, photos, reviews, interviews, comics, etcetera:

Broken links or images, hate mail, and other correspondence:

MySpace group:



OTHER WAYS TO CONTACT US...

MySpace page:

LiveJournal:

VOX: