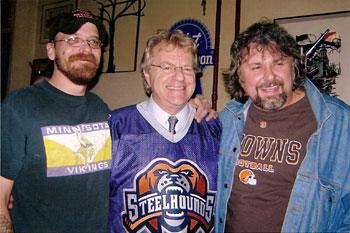 So what made you decide to do a radio show focusing on Youngstown area bands? How did the idea come about? Was this your idea or did someone from the radio station come to you about it?

My friend JT from here at the station, who is also involved with Third Arm Promotions, and I frequently discussed getting a local show going over the last few years as we saw the scene growing, and we hoped we could eventually get it started. But for whatever reasons the idea was always shot down by the 'Powers That Be.'
And then Vexfest 4 happened... it was AMAZING, and 5,000 people showed up [in downtown Youngstown] to see live, original local music -- I think that's more than most national acts have done at the Chevy Center! It showed exactly how varied and talented local bands are right now, and that people wanted local music. JT and I looked at each other and said 'Now's the time.'
Enter The Wolf's new program director, Matt Spatz. We knew his rep, and that he wanted to try some new things, so at our very first meeting with him we proposed the idea. He was on board immediately, as he had a similar program on his last station in Virginia. He told us to put it together, and so we approached Pete Drivere down at Ampreon Recorder to not only sponsor the show, but also [to sit in] as co-host, as he's pretty much a 'local rock guru.'


Seeing as you're a huge fan of Motorhead, as well as punk pioneers the Ramones and the Clash, and seem to have an affection for Pabst Blue Ribbon, is there a good chance you'll be giving just as much attention to the local punk rock scene as you will to other local "rock" genre bands? I hear you kicked off one of the shows with a Dead Boys track...

DEFINITELY. This area's always been a hotbed for punk and hardcore -- all the way back to Cedars in the late 70's and early 80's, with bands like The 8 Balls and B-Minors, to the old Penguin Pub in the late 80's and early 90's and bands like Sacred Hate and The Gutter Snipes. We want the show to embrace all genres, so you may hear metal, punk, rockabilly... as long as it's solid music, we'll consider playing it!
As far as The Dead Boys go, we just had to get them in on the first show -- some people may not know that Stiv Bators was a Youngstown guy, lived in Girard and graduated from Ursuline. That's something else we wanted to do with the show, to give an historical perspective by spinning some of the great Y-Town bands from the past.


I actually saw the 8-Balls on my birthday at Cedar's last year. I haven't been able to stop talking about them since! Their bass player is a huge Pere Ubu fan, so I talked to him about that for a while.
On a similar note, I used to work with a guy who grew up in Girard, right across the street from Stiv. He had no idea that the Dead Boys were this hugely influential band who still get articles published about them in "punk rock history" books!

Do you think better music comes out of these little hole-in-the-wall areas where people have nothing better to do?

I think that most of the music from this area is more honest, it's like a kind of 'What have we got to lose?' attitude. No pretensions. Not that there aren't pretentious bands in this area, believe me... unfortunately some musicians still follow pre-conceived notions of what they believe it takes to 'make it,' and wind up making formulaic music that simply recycles the stuff that their favorite artists have already made, rather than trying to actually do something TRULY original, something that's got some real heart to it. Cover bands are another thing altogether...

Oh no, please, go on! I think it's so depressing when venues won't book your band unless you play covers.

I think there's a 'comfort level' for club owners when they book only cover bands, it's a known quantity for them. They know what to expect, especially if they keep booking the same bands over and over... If they have an original band, they're afraid that either they won't get a decent draw at the door, or that they'll have a bunch of weirdos that'll scare the regulars off. In turn this leads to bands being afraid to work on original material because they're afraid of not getting bookings. It's a vicious cycle.



Related links:

HEY KIDS!! Viking Jim says:
"The views and opinions expressed here are strictly MINE, and not neccesarily those of WNCD, Clear Channel Communications, or any of it's affiliates."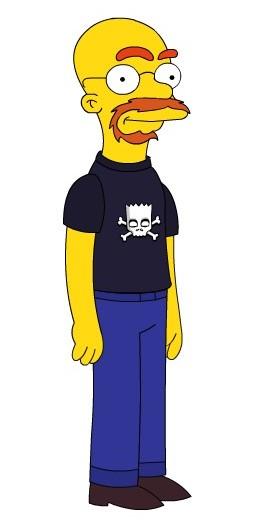 Right now there are 5 places in the area I can think of -- maybe 6 --that consistently book original acts. And that's great because there used to be only 1!
But I'm hoping that The Homegrown Show will break down some barriers, expose people to some music that they wouldn't normally be exposed to simply because they aren't aware that this scene is happening, maybe get them out to some of these shows and get them comfortable with new things and new ideas. Maybe then more club owners will start seeing the light as a result.


You mentioned rockabilly earlier. Do you anticipate any confusion or maybe cranky phone calls from people who might not associate "fifties music" or "oldies" with rock music? For people who might not be familiar with the local rockabilly scene, who are some of the hard-hitters, past and present?

Well, hopefully by exposing people to that genre of rock, it'll make them sit up and take notice! In the old days, you had great bands like Southern Culture on the Skids, also national acts like Reverend Horton Heat and Mojo Nixon used to play the old Penguin Pub. Now you've got bands like The Legendary Shack Shakers, they're out of Tennessee but they do play here occasionally, you've got Hellvis, who I describe to people as 'if Johnny Cash was in Motorhead,' there's Bob's Country Bunker, who've been on haitus of late, they describe themselves as 'rockinhillbillysurfcountrydeathpunk,' and of course The Weedhawks, who's material runs the gamut from traditional bluegrass and country arrangements to outright punk.

See, when I saw Bob's Country Bunker, I talked to Joe Shelby after their set, and mentioned something about rockabilly, and he got very sullen, muttering, "We don't play fuckin' rockabilly..." and walked off. I know Mojo Nixon isn't a big fan of the term either. I think people seem to confuse the term "rockabilly" with any form of rock music with country influence. Then bands who are simply influenced by country music or might just sing with a southern drawl get called "rockabilly bands", and they get offended (or maybe just disgusted with people who don't know the difference). It's a valid concern, but probably nothing to get so up-in-arms over.

Yeah, rockabilly is probably a bad term to use, but you also can't deny the influence of the genre on many bands. And some of them aren't afraid to latch on to some of the imagery -- you know, greaser haircuts, hot rods, all of that sort of thing. Joe Shelby sullen... heh heh, that's kind of a given ain't it? Ah, I'm kidding, Joe's a good friend and a great talent. You should check out his new project, Superbird. I've heard Hellvis described as 'Greasercore' -- maybe that's a better term?

I heard that Hellvis song on your show the other day, "Hellbent Boogie", and it blew me away! I'd always heard of those guys, but never got to hear what they sound like. Are they from Y-Town?

They're out of northern Ohio, or should I say 'he.' As far as I know, Ted Laskowski, the guitarist/frontman, is the only guy left in the band at this point. The bass player, BJ Lisko -- a Youngstown guy -- left the band to form Turbo Lovers. Ted had done a stretch in prison, and when he got out they played a couple of shows, and then BJ departed... guess it just wasn't the same. Turbo Lovers is a great band too, but hopefully Ted will find a new rythym section and get back out there. Their live shows were incredible.


Alright, so back to the radio show... How does all this work with the FCC? I was always under the impression that songs had to have some sort of FCC "stamp of approval" before they could be sent over the airwaves. Or are there just certain guidelines you have to follow? Give us a rundown of what "swear words" you can and can't say on the air.

No such thing as FCC 'approval.' As long as we keep it 'clean,' which basically means not saying 'fuck' or 'shit' or 'cunt' or 'cocksucker', and so on....
It's basically common sense. If you wouldn't say it in front of your grandma, don't say it on air.

As far as guidelines for the show, as long as it's local or regional, as long as it's good music, and a quality recording, we'll consider it for the show. I won't name names, but we have gotten some stuff that's really really terrible, not only bad recording quality but horrendous musicianship as well...


Can bands simply put a "C-tone" over all the prohibited four-letter words in their songs?

Bands are certainly welcome to edit their stuff themselves, or I can do it fairly easily myself. I usually don't use a tone, though... I'll usually just 'flip' the audio.


So, to wrap it up, since I'm running out of questions...
I hear there's been talk of eventually having bands come to the studio as guests, for interviews and/or live on-air performances?

Yeah, once we get our 'sea legs' with this thing, we may start doing interviews.


Where can bands send their recordings for use on the show?

Bands can send CD's to:
The Homegrown Show, 93.3 The Wolf, 7461 South Ave., Boardman OH 44512.
Just make sure it doesn't suck! ;-)


Any final words of wisdom or advice?

As far as advice for bands, don't get stuck in the 'cover band' loop!
Be creative, make the music you feel rather than the music you think people want... because if you feel it, they WILL want it!


Thanks for your time, Vike! And on behalf of the Penn-Ohio underground, thanks for being a friend of punk rock in general.


--Sam Sinister