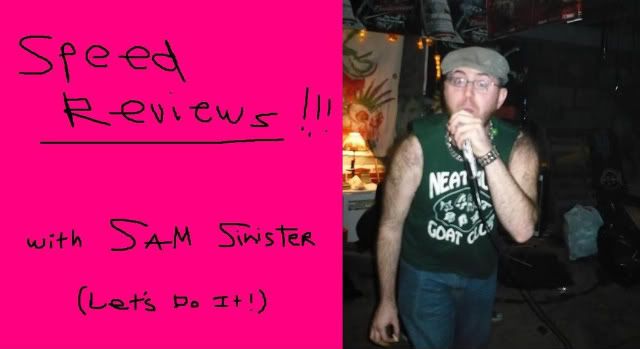 Well, getting more than a little backed up here on the ol' album reviews, so I decided to drink a bunch of crack juice, a.k.a. JAVA MONSTER, and just write about all 10 CD's I got sitting here, without even listening to them!! (Don't get me wrong, I've listened to them already countless times, I just ain't gonna put them on while I write) and YOU're gonna read it, whether you like it or not!!! Go to hell! BLAAAAAAAAAARGHULAAAAAAAAAAA!!!!
ALBUMS
: THE CHEATS "Cheap Pills" // HORROR OF 59 "The Golden Age of Sin" // TURBO LOVER(S) "No Longer Attractive" // DROPGUN "Devil Music" // PLASTERED BASTARDS "If You're Not Drinking With Us... You're Drinking Against Us" // OH SHIT THEY'RE GOING TO KILL US "Oh Shit They're Going to Kill Us" // SUBMACHINE "Live fast... Die Dumb!" // NIGHTMARE MODE "Sally" EP // TRADITIONALS "Generation of Today" // THE CHEATS "Life's Short"
HERE WE GOES!!
1.
THE CHEATS "Cheap Pills"
// 2003 Da' Core Records
Todd Cheat gave me this for free the first time I saw them play because he's a NICE FUCKING GUY! It's a great CD!! The drums sound awesome. None of the original members on this disc are in the band anymore, so it also kinda serves as document of the era. Great songs, most still get played in the live set. original version of "Bombs Away", cover of Rubber City Rebels' "Young and Dumb", other great "hits" like "Five Time Loser", "Automatic Reaction", the title track "Cheap Pills", "Gotta Get Out", the f-word laden "I just Wanna Tell Ya". The only song I don't like too much is "Buzz Bomb", the chorus is kinda awkward sounding, but one out of ten ain't bad!! Overall sound is Sex Pistols-style punk rock, think US Bombs with Bon Scott singing. UK 77-style without actually sounding British at all. If I rated albums, I'd give it 5-stars. But I don't!! FUCK YOU!!!
2.
HORROR OF 59 "Golden Age of Sin"
// 2007 Shark Attack Records/My Mind's Eye Records/Horror of 59
Bob Ignizio and company dish out new horror punk classics that sound more like Graves-era than Glen-era Misfits, but it's still a pretty distinctive overall sound. Ignizio sounds more like Danzig than Graves, but still with his own stylized tweaks. Once in a while I hear ghosts from my past mixed in there, i.e. mid-nineties alternative rock vocalists that I won't even try to pinpoint specifically. Not sure if that's even acturate... Could be wrong, but I may even hear a little Axel Rose in there..? i hate that fucker, but Ignizio doesn't sound like a cat in heat like him, either. There are a few throwbacks to
Walk Among Us / Earth AD
type stuff here, most noteably "Die My Way". The press release that was shipped out with the Cd mentioned traces of "rockabilly' and "garage rock" in here too, but if so I sure as hell don't hear it. I must be dense.
You
must be dense. Horror of 59 must be dens-- Er, really
cool
I mean. I seriously love this album though. Favorite track is "the Devil in Miss Jones". It's all for the gore, baby!!!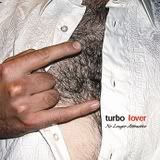 3.
TURBO LOVER "No Longer Attractive"
// 2004 Cracked Piston Recordings
Turbo
Lover
? Turbo
Lovers
? HOW DO YOU SAY IT?? Who fucking cares? You like to rock, and so does BJ Lisko, and I kinda do sometimes, so LET'S ROCK! 7 originals and 2 covers at the very end as "BONUS TRACKS", it's all very worthy of your time. "Lettin' It Loose" is easily the best one... I don't know maybe I
haven't
listened to the whole thing more than
once
, but that opening track is killer, man! So the rest of it might be super-awesome. Maybe I will pop this one in, just to be totally fair...
Okay, yeah. It rocks. It's a little more "hard rock" than
Cock of the Walk
, but not by much. Still very much a punk rock record, and if you don't believe me, tune in to WDVE and listen to your daddy's music for about an hour, then go back and put this on, and you'll understand what I mean. More AC/DC than Van Halen, that's for damn sure. My "non-choice" is the very slow "Drunk in Translation", and some of the other songs have the odd riff here and there that isn't really my cup of tea, but even the cheesiest-sounding song is made ten times better by Lisko's voice. Covers are "Grinder" by Priest and "King of Love" by some band called Zodiac Mind Warp. I'm dumb. Other favorite song other than "Lettin' It Loose" would be "Drive on", which is just under 4 minutes of high-energy rock and roll furiousness. Rock out with yer cock out! WOOOO!!
4.
DROPGUN "Devil Music"
// 2005 DROPGUN/HO FIST! Records
Two "Akron punk rock cops" as Todd Porter calls them, and two other very cool guys make up this "old school punk" quartet. Did I just say "quartet"?? What a fag! But
these
guys ain't fags, they're the REAL DEAL! This is balls-out punk
rock and roll
!! Think Electric Frankie vs. the Dead Boys in a mud wrestling match. In fact,
think twice
! Every song is phenominal. "Shoot" and "Think Twice" have almost an 80's hardcore/punk feel while songs like "Cut me Off" and "Strip Disco" are cock rock ANTHEMS. Singer Bill E. Rotic sounds a lot like Roger Miret on the song "Midnight Riot", while most of the time he emulates guys like EF's Steve Miller and Dead Boys' Stiv Bators, maybe even Alice Cooper. For fans of the aforementioned bands, as well as the Stooges, AC/DC, The Cheats, Murder City Devils, and Hellacopters. Sell your soul to rock and roll, and to the devil (notice the small 'd'). DRINKING KICKS ASS!!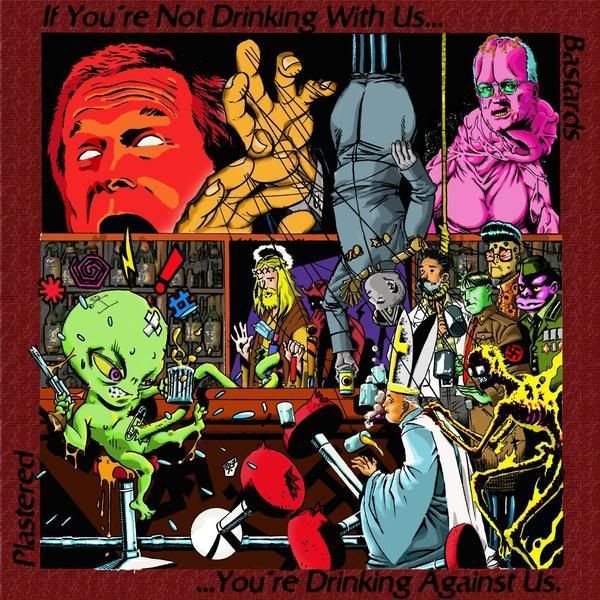 5.
PLASTERED BASTARDS "If You're Not Drinking With Us... You're Drinking Against Us."
// 2006 PLASTERED BASTARDS
Great effort from these Pittsburgh drunk punks. Call it streetpunk, call it thrash punk, call it hardcore punk... I think it's pretty safe to say this is punk. Think Violent Society if you need a point of reference. Swear words galore. And it's fast!! Standout songs are "Lemmings", "Too Many Bombs", "Don't Pee in the Tub", and 3 songs about fucking (listed on the back as "Trois Fuck", parts I, II, and III), "Stupid When You Fuck", "If We Ain't Fuckin, You're Leavin", and "I could get Used to Fuckin You". Don't fret, ladies, there's a woman in their ranks! That's right, she's a female bastard!! UK82 sound, with some thrash guitar, lots of speed-picking and galloping drums. Shitty shitfaced vocals. Eat it up, yum yum.
::INTERMISSION::
Need more MONSTER...

Doot dee-doot, dee-doot, dee-doot, dee-doot-dee... doo-doo-doot, dunt-da-dunt... *bleh*

And we're back!!
6.
SUBMACHINE "Live Fast, Die Dumb"
// 2002 Six Weeks Records
Old school hardcore/thrash punk from da Burgh! Pixburghers love ta drink beer n'at!! There's a cover of Fang's classic "The Money Will Roll Right In" (take THAT Nirvana! Yinzers do it better, now go shoot yer self in the head!!) If you're unfamiliar, these beligerant lifers perfectly blend rock and roll with hardcore punk-ala-eighties. Before you realize it, you're halfway through the album, these songs fly by with no regard for pretensious assholes to analyze 'em. Sluff up my nards! You can definately hear the UK hardcore influences (mainly Discharge), but these guys are a breed of their own, mostly due to singer Alex's unique vocal approach. Working class, socially-conscious (but not political!), and hard as fuck, Submachine will hurt you!!! If you don't know 'em, you don't deserve to!!
7.
OH SHIT THEY'RE GOING TO KILL US (self-titled)
// 2007 Dear Skull
"The only metal band I'll ever fully appreciate", is what I've told people. Hardcore punk songs with metal leads that sound like Iron Maiden and Thin Lizzy. Dual harmony guitars. Songs about religious/political corruption and the apocalypse. And werewolves. DRI would be impressed. Favorite tunes are "Mutant", "If Not You Who, If Not Now When", and absofuckinglutely "Werewolves on Wheels". I'm gonna buy a NASH board and go find an underpass to hang out under. Pass the spraycan, bro. Where's my blaster?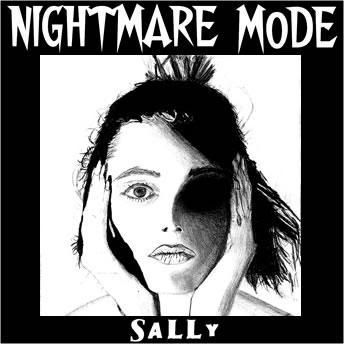 8.
NIGHTMARE MODE "SALLY" EP
// 2008 FUK52 Productions
AmmO, Danny D, and Nikki Nightmare present you with this lovely 6-song package to get down and boogie to. Cum on, you know you want it! 3 previously released songs, but newly recorded versions (well, "Hot One" is the same recording but with some more overdubs and tweaks here and there) that blow the demos away!! My only complaint is that the "AAAAAAAAAHHHHHHHHHHH!!!" at the end of the song "The" doesn't carry on as long as the other version. I think that was a key attribute to the song's genius. You guys really FUKed up... Shame on you! The songs "Nightmare Mode" and "Good Moves" are kinda like old grindcore, except the guitars are actually more than one chord and you can hear them clearly over the drums, and I don't listen to grindcore. Blastbeats baby! We're outta rounds!! "Out of the Blu!" is twice as fast as the older version, and the double-4-string attack of "Zippers Are the Devil" is sweeeeeeeeeet... Gimme that cowbell!! Nikki's backing vocals sound like a synthesizer. I thought it was one til I asked her about it. AmmO's voice is like 3 voices-in-one. Sometimes he shares duties with the deep-voiced Danny. I could give you 52 reasons to get this disc. Here's a few: 1. it's really really good. 2. it's cheap as hell. 3. Because I said so. 4. This band is from Menner, so you know it's gotta be good. Do not defy me!!!
9.
THE TRADITIONALS "Generation of Today"
// 2007 Impact Records
Hardcore Oi! from Pittsburgh skins The Traditionals, this is their 4th full-length release, and the third with their current singer, Rob Faulkner. Songs about good times and bad times, blue collar strife, integrity, unity, beer, beer, and more beer. Fast, 80's style American Oi!, with hardcore punk influences (more Gorilla Biscuits, AF, and Minor Threat than Cro-Mags and SOIA). It's on a german label, but I'm sure there's plenty of stores in PGH that carry it, too, or you can contact the band directly to get your much needed copy. Bring back the spirit of Oi!!
10.
THE CHEATS "Life's Short..."
// 2006 Da' Core Records
Some who writes for Scene Point Blank tore this album apart, and fuck 'em for it. Whoever writes for that stupid piece of shit website needs a good anal-reaming. All this nonsense about elevators and whatnot. Kiss my ass!!
Life's Short
is awesome!! As far as I'm concerned, The Cheats are one the great American punk rock bands, even if the lineup
does
change everytime I see them!! Todd's vocals are little more like his Silver Tongued Devil days (just a little), definately less Bon-inspired, and a little gruffer, if that is in fact a word. Which is ironic, since this is definately more glam/rock 'n roll tinged than
Cheap Pills
, but still just as "street" sounding as well. 3 more covers by the Cheats on this one, "Hammersmith Palais" (Demolition 23 [short-lived, pre-renunion Hanoi Rocks]), "Surrender" (Cheap Trick), and "Hanging on the Telephone" (The Nerves [later popularized by Blondie]). The 13 originals are all top-notch, especially "No Time", "Boredom", "NYC" (with tributes to CBGB OMFUG and the RAMONES), "I Want Some", and "Endless Vacation" (
not
a RAMONES cover). The Hellvis-esque "Creep City" splits the album completely in half, which is great for a little change of pace. Get the album at a show, since Da' Core's shitty marketing department doesn't give a fuck. You need this. You know you do.
There you have it!! 10 album reviews in one. Now I'm tired. Piss in my eye. No, wait. Don't. Blah blah blah blah blah blah blah... yep. Go away now.

--Sinister